EVELON provides a unique technology for the production of Continuous Basalt Fiber (CBF). Extensive scientific research on natural basalt stone has paved the way for CBF production, which represents an innovative advance in the processing and application of new materials.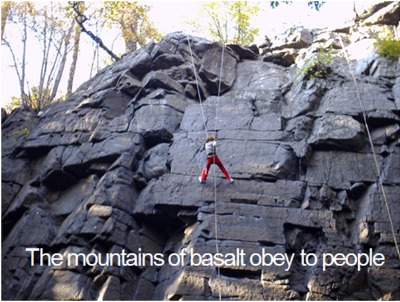 [Basalt mountains [cliffs], tamed by and for people]
This environmentally safe technology for fiber, yarn and related products consists of just a single stage – melting.  Further processing of CBF into other materials and products requires no additional energy inputs: instead different "cold" technologies are employed, such as molding, winding, pultrusion, sputtering and similar.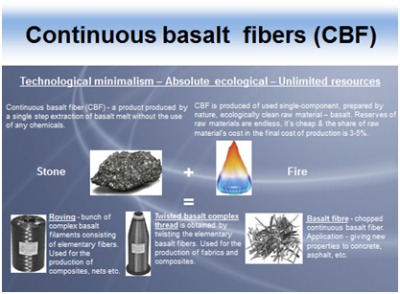 CBF production is environmentally friendly:
CLEAN RAW MATERIAL
CLEAN PRODUCTION
Employs no chemical additives, solvents, dyes and similar
Clean energy: natural gas, electric power
Clean equipment: compact furnace modules and aggregates produce no hazardous wastes
Emissions: only filtered byproducts of combusted natural gas
CLEAN PRODUCT
Full compliance with European KEDSN regulations on chemical safety
Emits no harmful substances into air or water
Non-combustible, non-explosive
Carcinogen-safe (fiber diameter more than 5 microns)
CLEAN DISPOSAL
Harmless powder for future use as filler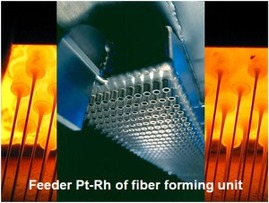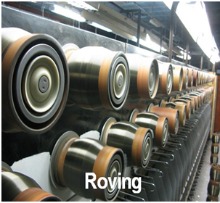 BASALT FIBERS exhibit properties similar to CARBON FIBERS, but at a price similar to that of GLASS FIBERS
Basalt fiber's strength-to-weight ratio is 2.5 times that of alloyed steel, and 1.5 times that of glass fiber. And CBF is not prone to corrosion from salts, alkalis or acids. As a result, both basalt's own unique characteristics and the implementation CBF production give rise to a variety of applications.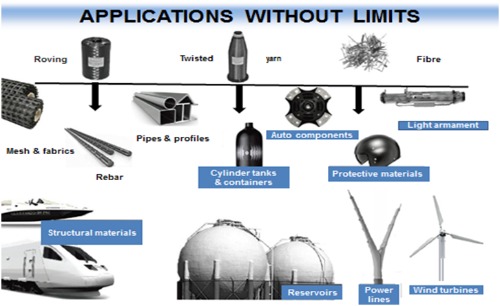 Use of basalt fiber is among the fastest growing trends in the construction and oil industries today.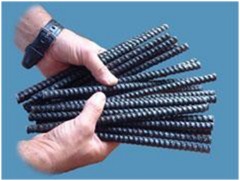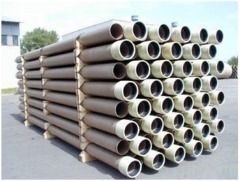 Please contact us for more information.